« Back to Events
Leadership Luncheon: Big Data
Big Data is a term that describes the large volume of data that a business generates. However, it isn't the amount of data that's important. It's what organizations do with the data that matters. As society matures into the Digital Age, it is generating more data than ever. In fact, 90% of the world's data has been created in the last two years alone, and today we are creating 2.5 quintillion bytes of data daily! Bad data costs the United States $3.1 trillion annually, and most companies still only analyze 12% of the data they have. Further, the Big Data market stands to nearly triple in size to $103bn by 2027.
Come hear our panel of experts discuss how Big Data will impact the real estate industry and built environment, and why it is becoming increasingly integral for organizations to adapt to this reality.
MODERATOR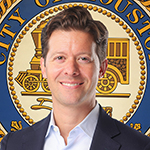 Jesse Bounds
Director of Innovation
City of Houston Mayor's Office
Jesse leads the Mayor's Office of Innovation that is helping modernize the way the City serves its people. Prior to his current role, Jesse served in various capacities for the City's executive office, as an Operations Analyst and Assistant Chief of Staff to Mayor Bill White, and more recently as a Liaison to Tax Increment Reinvestment Zones (TIRZ) in Mayor Parker's Office of Economic Development. He is a Lean Six Sigma Black Belt and led many successful projects across the City resulting in measurable increases in service quality and efficiency. Jesse received his Master of Business Administration from the University of Houston and his Bachelor of Arts in Political Science and International Studies from the University of St. Thomas. In his free time, he enjoys running and spending time with his wife, Gloria and their two sons.
PANELISTS
Aziz Gilani
Managing Director
Mercury Fund
Aziz Gilani is a Managing Director at Mercury, where he focuses on investments in enterprise SaaS, Cloud and data science startups. Aziz currently serves on the boards of Mercury portfolio companies Datical, GameSalad, Graylog, Koupon Media (observer), Label Insight (observer), ShareThis (observer) and Trendkite (observer). Aziz's previous investments at Mercury have included BlackLocus (acq. by The Home Depot), Infochimps (acq. by CSC), Modest (acq. by PayPal), and Phurnace Software (acq. by BMC Software).
In addition, Aziz is a graduate of the Kauffman Fellows Program through the Center for Venture Education, where he completed industry-defining field work on Seed Accelerators.  Aziz is a recognized expert in Seed Accelerators, and has been quoted in several national publications including The Wall Street Journal, The New York Times, BusinessWeek, ReadWriteWeb, TechCocktail, and The Business Journals.
Outside of Mercury, Aziz serves in advisory roles for Knight Foundation, the Mayor of Houston's Tech and Innovation Council, Seed Accelerator Rankings, and SXSW Interactive. He is also an adjunct professor of entrepreneurship at Rice's Jones Graduate School of Business where he teaches a course on venture capital.
James Scott
MSRED – Urban Tech Analytics
MIT Real Estate Innovation Lab
The Real Estate Innovation Lab (REIL) is a research lab for innovation in the built environment that links design, innovation and economic impact back to its stakeholders. It grew out of the work of MIT's Center for Real Estate, and remains within the MIT School of Architecture and Planning.
The Real Estate Innovation Lab researches the frontier in real estate product, processes, and data technologies to impact cities and the built environment.  The research team integrates financial, architectural, economic, and urban data sets to identify impact and outcomes.
Andrew Segal
Chairman & CEO
Boxer Property
Andrew Segal formed Boxer Property in September 1992. Under his oversight, the company has successfully reached into segments as diverse as resort hotels, retail centers, office and other real estate businesses, accounting for approximately 20 million square feet of space across the United States.
He is the co-founder of Stemmons Enterprise software company. He received his B.A. from the University of Southern California. He attended the New York University School of Law and graduated with a Juris Doctor in 1992.
Paige Stover
Senior Director of Analytics
Forum Analytics, a CBRE Company
Paige Stover has over 13 years of retail modeling experience working for firms such as Shopper Trak and Management Science Associates. Since joining Forum Analytics, an industry leader in advanced real estate forecasting and analytics seven years ago, she has been overseeing and developing the modeling capabilities.  Forum Analytics builds customized solutions that validate your instinct using data science to understand revenue drivers, predict performance and take a proactive approach to market planning and site selection.  She has initiated and continually adapted the application of machine learning techniques to real estate in order to improve both outcomes and efficiency for Forum's clients. Her team has also worked to integrate and develop new data sources like Massive Mobile Data and social media tracking into real estate applications. Paige also oversaw the creation and development of ShopoGraphics, the first-of-its-kind retail segmentation database for real estate modeling.
Paige holds a Bachelor of Science in statistics and decision sciences from Carnegie Mellon University.
AGENDA:
11:30 am – Networking
12:00 am – Program Starts
1:15 pm – Program Concludes
REGISTRATION:
Pricing:
Members
Non Members
Private/Public
$65
$90
Nonprofit
$55
$80
Under 35
$40
$55
Student
$40
$55
Retired
$40
n/a
Table Sponsorship
(10 tickets, best available reserved table w/ signage and recognition on PPT)
$1,000
Annual sponsorship benefits apply. Table sponsorships are available.
Please contact Logan Beszterda to use your tickets or to purchase a table.
Click here to view a list of attendees.
iCal Import